Genetically Modified Food Products List by Greenpeace
Download How to Avoid Genetically Engineered Food - 780 Kb (PDF)
A note from Wikipedia
A genetically modified organism (GMO) is an organism whose genetic material has been altered using genetic engineering techniques. Organisms that have been genetically modified include micro-organisms such as bacteria and yeast, insects, plants, fish, and mammals. GMOs are the source of genetically modified foods, and are also widely used in scientific research and to produce goods other than food. The term GMO is very close to the technical legal term, 'living modified organism' defined in the Cartagena Protocol on Biosafety, which regulates international trade in living GMOs (specifically, "any living organism that possesses a novel combination of genetic material obtained through the use of modern biotechnology").
This article focuses on what organisms have been genetically engineered, and for what purposes. The article on genetic engineering focuses on the history and methods of genetic engineering, and on applications of genetic engineering and of GMOs. Both articles cover much of the same ground but with different organizations (sorted by organism in this article; sorted by application in the other). There are separate articles on genetically modified crops, genetically modified food, regulation of the release of genetic modified organisms, and controversies.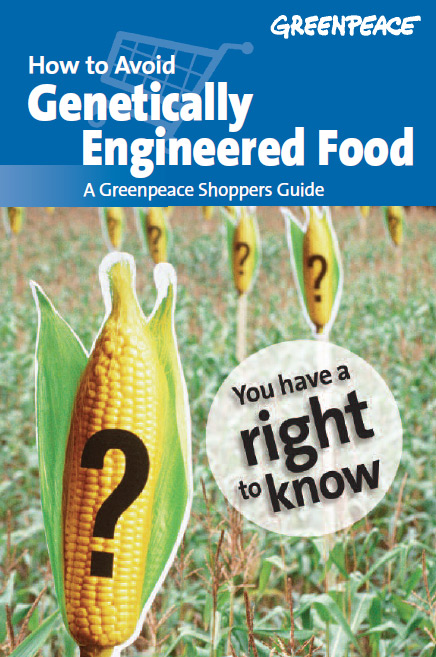 Download How to Avoid Genetically Engineered Food - 780 Kb (PDF)
Source: http://www.greenpeace.org/canada/en/
Published in February 2013.
Read more Christian articles (English)
---
Recommend this page to your friend!