3 idiots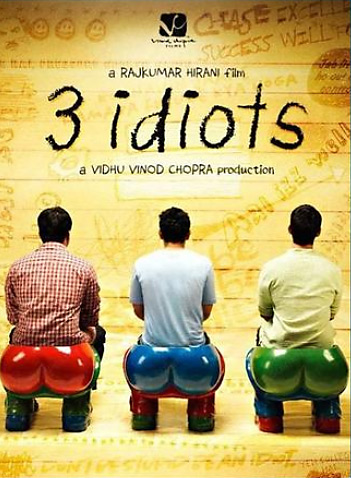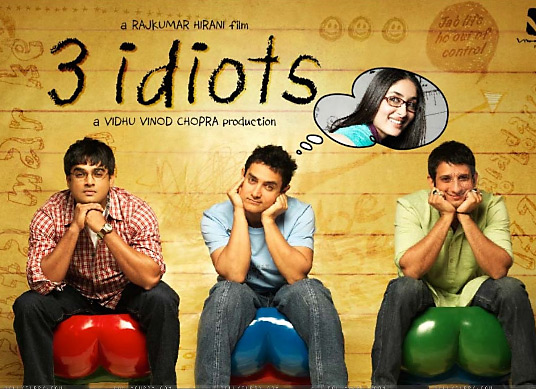 Photo - http://rutracker.org/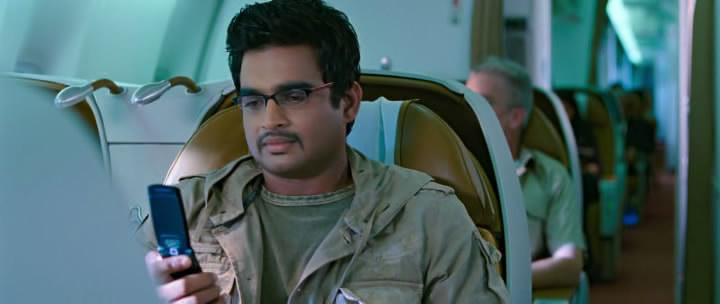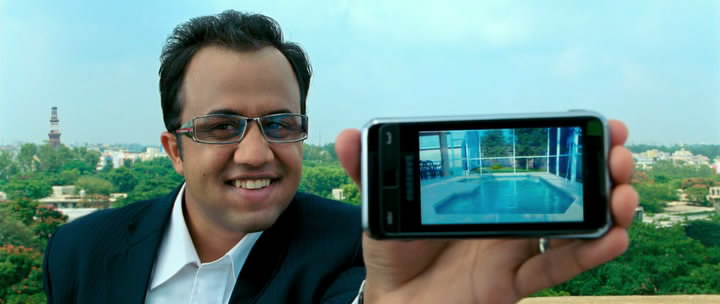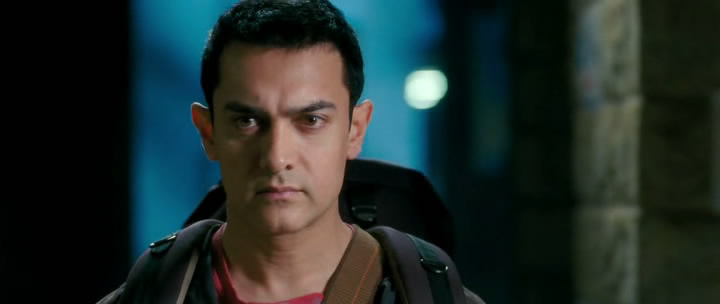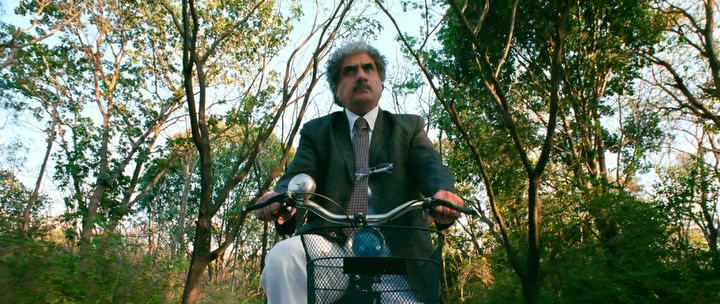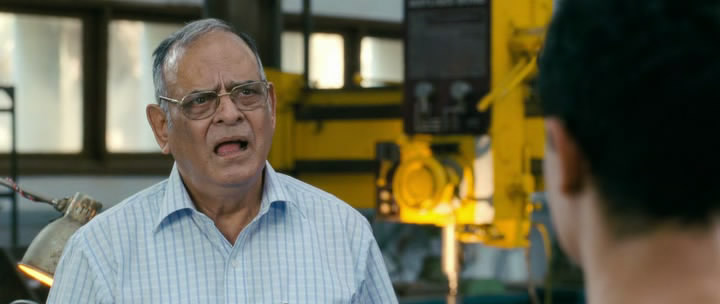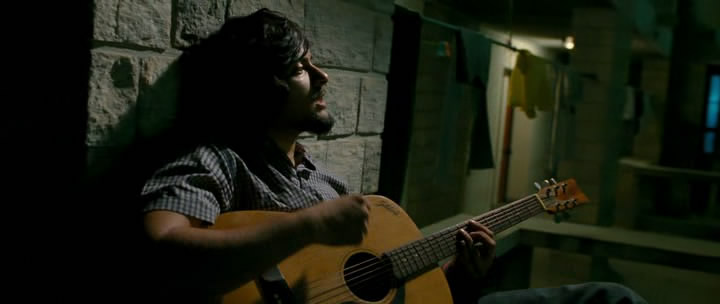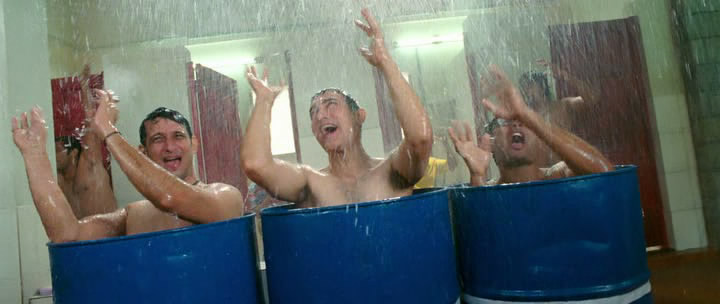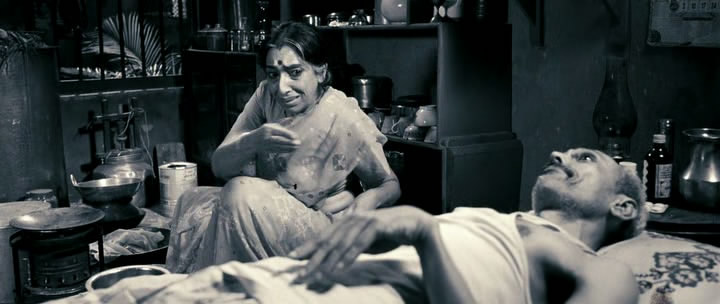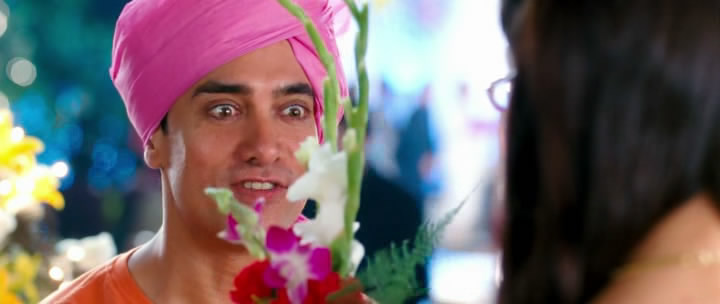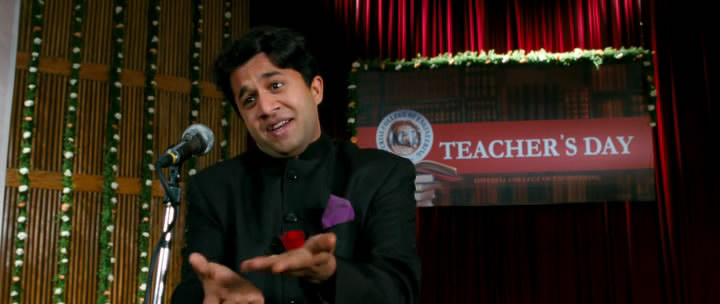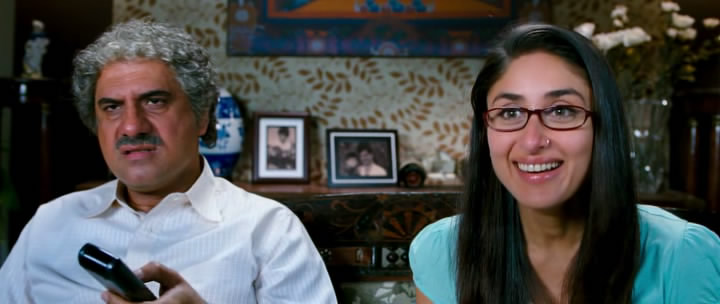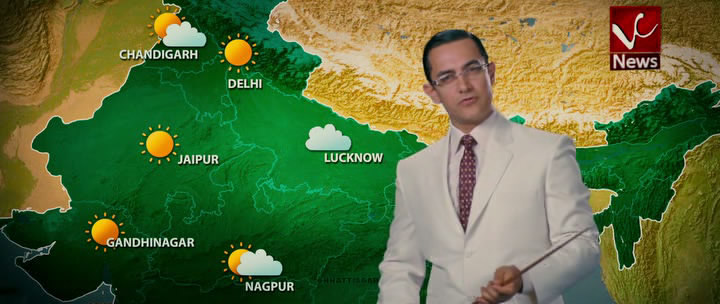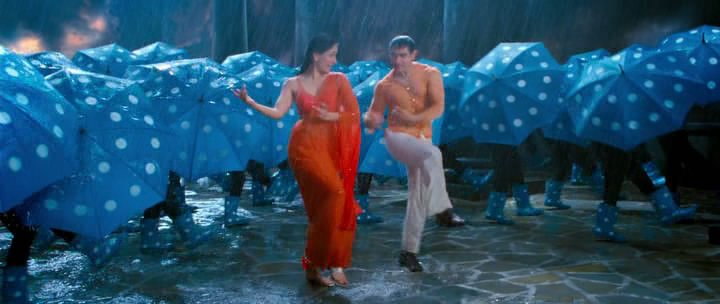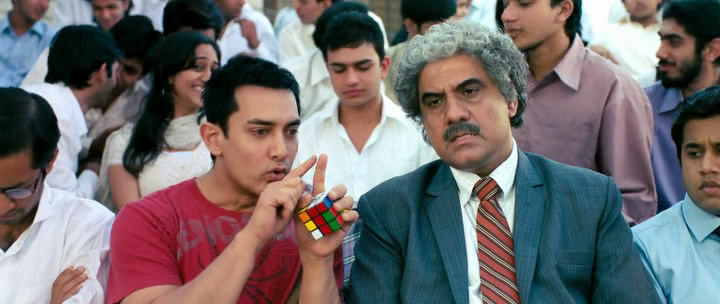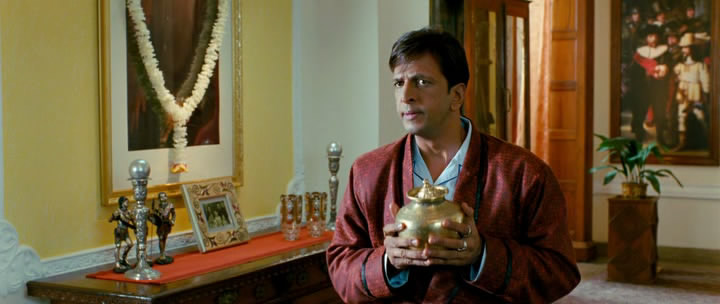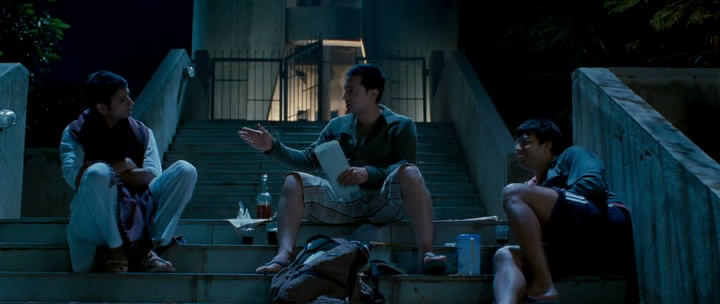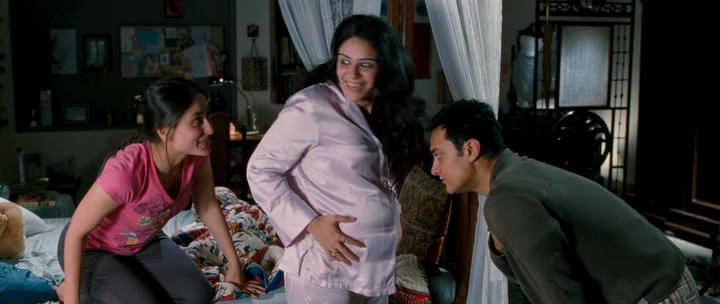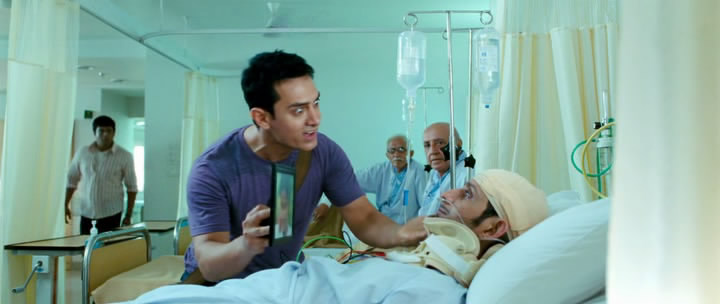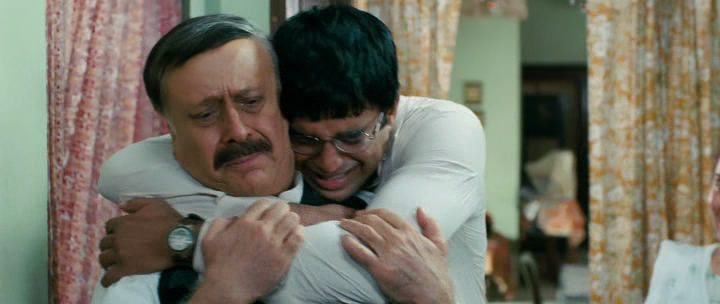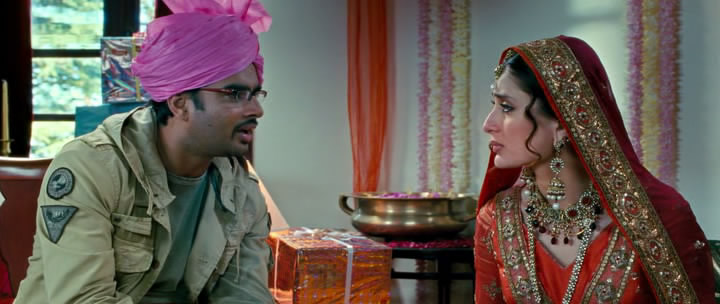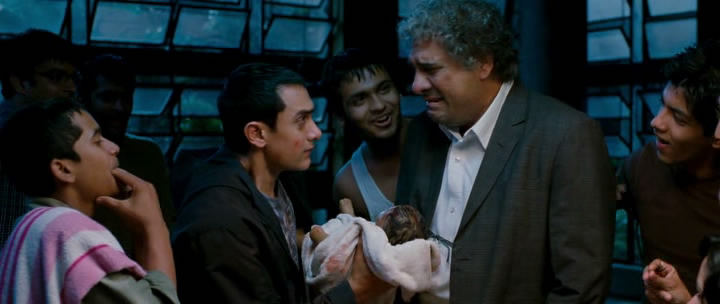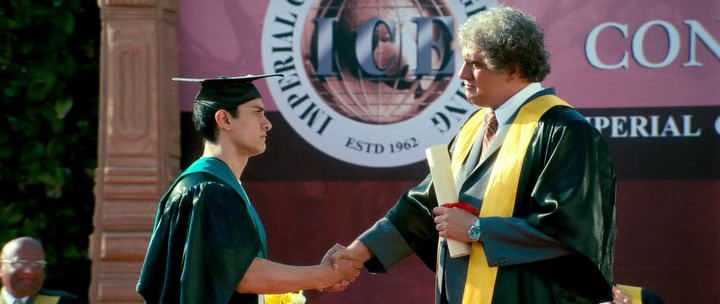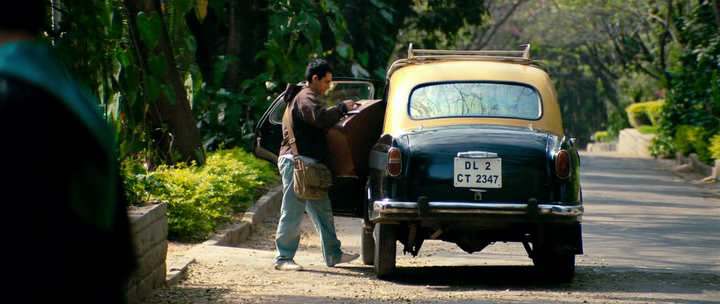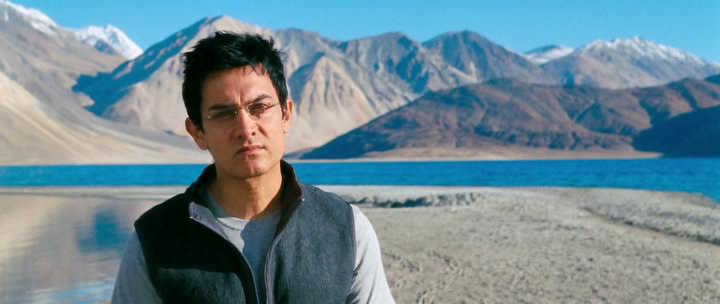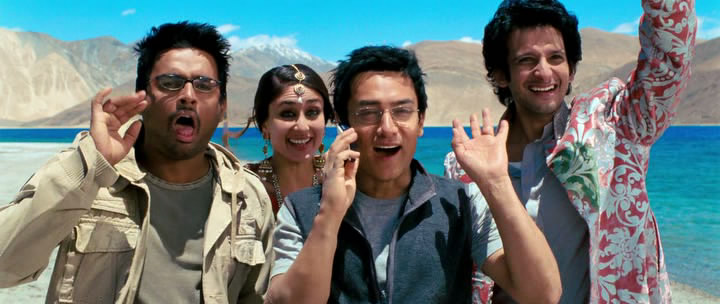 Photos - film screen-shots
Directed by Rajkumar Hirani
Produced by Vidhu Vinod Chopra
Story by Abhijat Joshi, Rajkumar Hirani
Based on - Five Point Someone – What not to do at IIT! by Chetan Bhagat
Narrated by R. Madhavan
Music by Shantanu Moitra
Cinematography C. K. Muraleedharan
Release date 25 December 2009
Running time 170 min.
Country - India
Language - Hindi, English
3 Idiots (stylized as 3 idiots) is a 2009 Indian comedy-drama film directed by Rajkumar Hirani, with a screenplay by Abhijat Joshi, and produced by Vidhu Vinod Chopra. It was loosely adapted from the novel Five Point Someone by Chetan Bhagat. 3 Idiots stars Aamir Khan, Kareena Kapoor, R. Madhavan, Sharman Joshi, Omi Vaidya, Parikshit Sahni and Boman Irani.
Upon release, the film broke all opening box office records in India. It was the highest-grossing film in its opening weekend in India and had the highest opening day collections for a Bollywood film. It also had the record for highest net collections in the first week for a Bollywood film. Within 10 days of its release, the film crossed the INR100 crore (US$18.2 million) mark in India and became the first film of 2009 to do so. The film also created a new box office record for a release in the last quarter of a year (October to December), breaking the previous record set by Ghajini. It is also the highest-grossing film to be released in the second half of the year (July to December), breaking the previous record also held by Ghajini.
3 Idiots has become the highest-grossing Bollywood film of all time in India, breaking the previous record set by Ghajini which also starred Aamir Khan. It also became one of the few Indian films to become a major success in East Asian markets such as China, eventually bringing its overseas total to US $25 million—the highest-grossing Bollywood film of all time in overseas markets. It was expected to be the first Indian film to be officially released on YouTube, within 12 weeks of releasing in theaters on 25 March 2010, but finally got officially released on YouTube in May 2012. The film also went on to win many awards, winning six Filmfare Awards including best film and best director, ten Star Screen Awards and sixteen IIFA awards.
The film also uses real inventions by little-known people in India's backyards. The brains behind the innovations were Remya Jose, a student from Kerala, who created the exercise-bicycle/washing-machine; Mohammad Idris, a barber from Meerut district in Uttar Pradesh, who invented a bicycle-powered horse clipper; and Jahangir Painter, a painter from Maharashtra, who made the scooter-powered flour mill. This film was remade in Tamil as Nanban (2012) which also received critical praise and commercial success. It has also been announced that there will be a Chinese remake of the film produced by Stephen Chow and that there are plans for a Hollywood remake produced in the United States.
Plot
Farhan Qureshi (R. Madhavan), Raju Rastogi (Sharman Joshi) and Ranchhoddas "Rancho" Shamaldas Chhanchad (Aamir Khan) are three engineering students who share a room in the residence of Imperial College of Engineering (ICE). Farhan is studying engineering to pursue his father's wishes over his own wish — to become a wildlife photographer. Raju is studying to get his family out of poverty. On the other hand, Rancho studies for his simple passion in machines. Rancho believes that one should follow excellence, not success, as success will take care of itself if excellence is followed.
However, this different approach is sneered upon by the dean of the college, Professor Viru "Virus" Sahastrabuddhe (Boman Irani). Virus's favorite student, Chatur "Silencer" Ramalingam (Omi Vaidya), believes in mindless memorizing over understanding in order to reach his goals of corporate status. Rancho falls in love with Virus's daughter Pia (Kareena Kapoor), a medical student. Angered, Virus continually attempts to break Rancho's friendship with Farhan and Raju. Things further escalate when the three friends drunkenly break into Virus's house one night. The next day, Virus threatens to rusticate Raju unless he squeals on Rancho. Not wanting to betray his friend or let down his family, Raju attempts suicide and ends up in a coma. With two months of extensive care from his mother, Rancho, Farhan, and Pia, he makes a full recovery and thus discards his fear of the future. His frankness impresses the corporate agents during a job interview and they hire him. Farhan, goaded by his friends, convinces his parents to allow him to drop out of school and follow his wildlife photographer dream.
Virus schemes to set Raju an impossibly tough final exam, as the job offer is contingent on graduation. Pia learns of this and informs Rancho and Farhan, who break into Virus's office for the exam. Virus catches them and expels them on the spot. Pia angrily confronts him, revealing that her brother, whom their father had pushed to become an engineer despite his preference for literature, committed suicide after failing ICE's entrance exam three times. Pia then flees to her hospital. Later that night, Pia's pregnant older sister Mona (Mona Singh) goes into labor. A heavy rainstorm cuts all power and floods the streets, making it impossible for an ambulance – or Pia – to reach Mona. The students rig up a power supply and other equipment so that, with guidance from Pia by webcam, they can deliver the baby. The baby is apparently stillborn, but kicks when the students all chant Rancho's calming mantra "All is well." The baby recovers and Virus is thus obliged to forgive Rancho and his friends, allowing them to stay for their final exams.
Their story is framed as intermittent flashbacks from the present day, ten years after Chatur bet that he'd become more successful than Rancho. Chatur, who now boasts of his wealth and his bright career with an American company, is eager to rub Rancho's nose in it. Raju and Farhan have tried to find Rancho for five years with no results; with Chatur's help, they travel to the Chhanchad estate in Shimla, where they find a completely different man: the real Ranchhoddas Chanchad (Jaaved Jaffrey). They coerce the stranger into revealing the truth: their friend was an orphaned servant boy who loved learning, unlike the real Rancho. After seeing the boy's intelligence, Rancho's father arranged for the servant boy to go to college and earn a degree in Rancho's name. The real Rancho reveals that their friend is now a schoolteacher in Ladakh.
On the way, the three rescue Pia from an unhappy wedding, over Chatur's objections: he wants to get the trip finished quickly, because he is in a hurry to seal a business deal with Phunsukh Wangdu, a renowned scientist. In Ladakh, Raju and Farhan find villagers working with gadgets that show the stamp of Rancho's ingenuity, and learn that Rancho has all of Farhan's photography books and reads Raju's blog every day. The three friends reunite and Pia and Rancho rekindle their love, while Chatur mocks Rancho. However, Rancho reveals his true name: Phunsukh Wangdu. Chatur, mortified, accepts his defeat and pleads with Phunsukh to forgive him and accept his company's contract. Phunsukh, Pia, Farhan and Raju run laughing into the distance with Chatur in pursuit.
Cast

Aamir Khan as Ranchhoddas "Rancho" Shamaldas Chhanchad / Phunsukh Wangdu / Chhote
Kareena Kapoor as Pia Sahasrabuddhe
R. Madhavan as Farhan Qureshi / Narrator
Sharman Joshi as Raju Rastogi
Boman Irani as Viru Sahasrabuddhe (ViruS)
Omi Vaidya as Chatur Ramalingam (Silencer)
Rahul Kumar as Manmohan "MM" aka Millimeter / Centimeter
Mona Singh as Mona Sahasrabuddhe
Sanjay Lafont as Suhas
Parikshit Sahni as Mr. Qureshi
Farida Dadi as Mrs. Qureshi
Amardeep Jha as Mrs. Rastogi
Mukund Bhatt as Mr. Rastogi
Javed Jaffrey as Ranchhoddas Shamaldas Chhanchad (Cameo)
Arun Bali as Shamaldas Chhanchad
Ali Fazal as Joy Lobo
Akhil Mishra as Mr. Dubey (Librarian)
Rajeev Ravindranathan as Lead Ragging Senior
Harvinder Singh as Mr. Dhillon
Achyut Potdar as Workshop Class Professor
Pitobash as ICE college student
Production
The shoot of the film with the supporting characters began on 28 July 2008. Hirani and his team left in late August for the shoot with the principal cast. The film was shot in Delhi, Bangalore, Mumbai, Ladakh, Chail and Shimla. Aamir and rest of the cast began shooting in early September. Hirani planned to wrap up the film by December. The first scene was shot in an aircraft with Madhavan. From Mumbai, the crew and cast comprising Aamir and Kareena went to Ladakh for a 20-day schedule. The shooting also took place at the Indian Institute of Management – Bangalore for 33 days as a part of the second schedule of production.
Source: http://en.wikipedia.org/
---
---
Смотрите также: Христианские фильмы
Recommend this page to your friend!